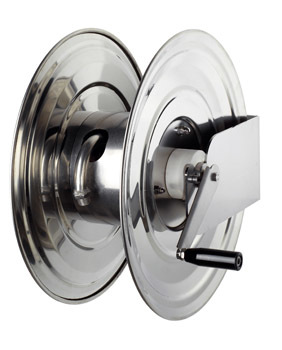 Product Description
DUAL STAND STAINLESS STEEL HOSE REEL – 8000 SERIES
MANUAL HOSE REEL
SP make manual hose reel, 8000 series, in painted steel, suitable for hoses of max 50 m length in ½". The hose reel is supplied without hoses and can be used with hoses for the supply of oils, antifreeze, greese, compressed air and water at low and high pressure.
Manual SS Oil Hose Reels are apt for food processing, chemical transfer, pre-rinse, wash down, and industrial-solvent management. Also suited for offshore, coastal and on-board ship in marine usages where the rough environment of salt water spray needs the utilization of stainless hose reels. The standard latch parts of these are made from aluminum. These are offered with stainless latch parts as well as fluid path as the highly standard options. These also feature full flow stress free swivel design that combines the optimal grade seal design as well as materials with bearing spheres to ensure maximal service life. Manual SS Oil Hose Reels can be plumbed into the base so as to obviate the risk of excessive stress on the swivel. The steel guide arm as well as base are sealed with ribs as well as gussets so as to insure maximal strength and lightest accomplishable weight.

Application:
Manufacturing industry in all sectors for Pneumatic tool, assembly line and other general industrial operations.

Municipal Corporations, Garage Workshops for lubrication, washing.

Oil Management systems for multi point.
Features:
Double Stand Steel Frame Construction.

All Hose Reels are made of heavy gauge, high quality steel fabricated and compact design.

Adjustable spool rotation drag eliminates hose backlash.
Nickel-plated swivel
Full flow shaft and ball bearing swivel
Permanently lubricated dual main bearings
All bolted construction – no welds
Vibration-proof self-locking fasteners to ensure assembly integrity

All materials in Stainless steel

6 months manufactures warranty.
MODEL NO FOR SPRING REWIND

HOSE SIZE & LENGTH

CONNECTION THREADS IN-OUT

WEIGHT

DIMENSIONS (LXWXH) (MM)

ID

OD

LENGTH

OHR-8M-1410 SS

1/4"

10 MTR

1/4" (M) - 1/4" (F)

OHR-8M-1415 SS

1/4"

15 MTR

1/4" (M) - 1/4" (F)

12 KG

240 X 550 X 450

OHR-8M-1420 SS

1/4"

20 MTR

1/4" (M) - 1/4" (F)

16 KG

240 X 550 X 450

OHR-8M-1425 SS

1/4"

25 MTR

1/4" (M) - 1/4" (F)

19 KG

310 X 550 X 450

OHR-8M-3810 SS

3/8"

10 MTR

3/8" (M) - 3/8" (F)

OHR-8M-3815 SS

3/8"

15 MTR

3/8" (M) - 3/8" (F)

12 KG

240 X 550 X 450

OHR-8M-3820 SS

3/8"

20 MTR

3/8" (M) - 3/8" (F)

16 KG

240 X 550 X 450

OHR-8M-3825 SS

3/8"

25 MTR

3/8" (M) - 3/8" (F)

19 KG

310 X 550 X 450

OHR-8M-1210 SS

1/2"

10 MTR

1/2" (M) - 1/2" (F)

OHR-8M-1215 SS

1/2"

15 MTR

1/2" (M) - 1/2" (F)

12 KG

240 X 550 X 450

OHR-8M-1220 SS

1/2"

20 MTR

1/2" (M) - 1/2" (F)

16 KG

240 X 550 X 450

OHR-8M-1225 SS

1/2"

25 MTR

1/2" (M) - 1/2" (F)

19 KG

310 X 550 X 450
Contact Us
G-7, M.K. Industrial Estate, Sonawala Cross Road No.-2, Goregaon (E), Mumbai, Maharashtra, 400063, India
Phone :+918068341348