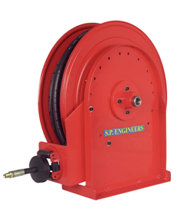 Product Description
SINGLE STAND CARBON STEEL HOSE REEL – 7000 SERIES

AUTOMATIC REWIND, SPRING – DRIVEN
Automatic rewind, spring-driven hose reel, Single stand with powder coated, suitable for hoses of max 25 mtr lengths and max diameter of 1/2". The hose reel is supplied without hoses and can be used with hoses for the supply of oils, antifreeze, grease, compressed air and water. From the inlet swivel joint the fluid flows through an interchangeable hose connection adapter assembly on which the hose is mounted (standard version galvanized steel, available on demand also in stainless steel 304 or 316).
Application:
Manufacturing industry in all sectors for Pneumatic tool, assembly line and other general industrial operations.
Municipal Corporations, Garage Workshops for lubrication, washing.
Oil Management systems for multi point.
Features:
Single Stand Steel Frame Construction
All Hose Reels are made of heavy gauge, high quality steel fabricated and compact design.
The Sturdy all welded frame base provides extra strength to handle the extra weight without loosing performance.
High-Quality Spring for Long-life of coil spring, SS ratchet spring & non-corrosive ratchet.
Full-Flow Shaft and Swivel Rotary to Maximize Fluid flow with minimum pressure drop for faster fills.

Standard Swivel inlet: 90

⁰

with ½" bsp male thread size & outlet ½" bsp male.

Swivel Rotary Seal – PU Seal.
Multi-Position Lock Ratchet Secures Hose at desired length.
Final Finishing / Painting: powder coated as standard red color. (Other colors are available when you requested).
All material is carbon steel as standard. (Stainless hose reels materials are available when you requested).
Standard working pressure 200 bar.
6 months manufactures warranty.
Standard Colour Available : Red, Blue & Yellow.
MODEL NO FOR SPRING REWIND

HOSE SIZE & LENGTH

CONNECTION THREADS IN-OUT

WEIGHT

DIMENSIONS (LXWXH) (MM)

ID

OD

LENGTH

OHR-7A-1410

1/4"

10 MTR

1/4" (M) - 1/4" (F)

OHR-7A-1415

1/4"

15 MTR

1/4" (M) - 1/4" (F)

12 KG

240 X 550 X 450

OHR-7A-1420

1/4"

20 MTR

1/4" (M) - 1/4" (F)

16 KG

240 X 550 X 450

OHR-7A-1425

1/4"

25 MTR

1/4" (M) - 1/4" (F)

19 KG

310 X 550 X 450

OHR-7A-3810

3/8"

10 MTR

3/8" (M) - 3/8" (F)

OHR-7A-3815

3/8"

15 MTR

3/8" (M) - 3/8" (F)

12 KG

240 X 550 X 450

OHR-7A-3820

3/8"

20 MTR

3/8" (M) - 3/8" (F)

16 KG

240 X 550 X 450

OHR-7A-3825

3/8"

25 MTR

3/8" (M) - 3/8" (F)

19 KG

310 X 550 X 450

OHR-7A-1210

1/2"

10 MTR

1/2" (M) - 1/2" (F)

OHR-7A-1215

1/2"

15 MTR

1/2" (M) - 1/2" (F)

12 KG

240 X 550 X 450

OHR-7A-1220

1/2"

20 MTR

1/2" (M) - 1/2" (F)

16 KG

240 X 550 X 450

OHR-7A-1225

1/2"

25 MTR

1/2" (M) - 1/2" (F)

19 KG

310 X 550 X 450
Contact Us
G-7, M.K. Industrial Estate, Sonawala Cross Road No.-2, Goregaon (E), Mumbai, Maharashtra, 400063, India
Phone :+918068341348